The "PPS Piggy" is a companion board to the Trimble Resolution SMT carrier board and Resolution T that makes it easy to connect to a PC via either RS-232 or USB.
It provides a linear 3.3V power supply for the RT/RSMT board and 3.3V or 5V for the antenna, all from a 5V input (either external or from USB). Serial communications is available via either USB or RS-232 or both. If both are connected, USB takes precedence and can transmit to the RT or RSMT board, but both RS-232 and USB always receive data simultaneously from the RT or RSMT. Pulse-per-second output is provided via the RS-232's DCD (carrier detect) line, and a 50-ohm driven 100mil header connector. An unpopulated SMA footprint with the same 50 ohm output is also provided. The 50-ohm output will drive 2.5V into a 50 ohm load, or 5V into a high-impedance load.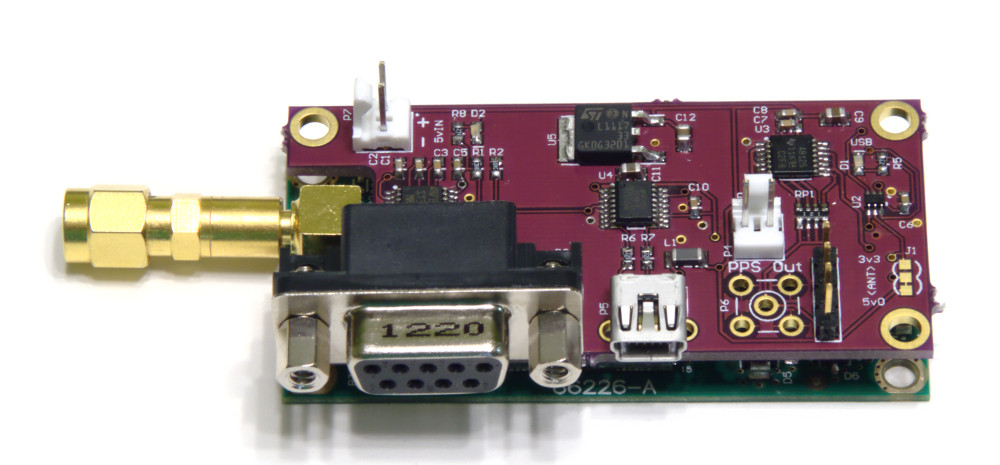 The PPS Piggy is no longer being sold, but design files are available below.
Features
5V input power via header or USB
Onboard 3.3V linear regulator
Solder jumper for selecting 3.3V or 5V for antenna power (default 5V)
Serial RS232 on DE-9 female connector
Serial USB on 5-pin Mini-B connector
Pulse-per-second on the RS232 DCD pin (negative-going)
Pulse-per-second on 100mil header (positive-going) and unpopulated SMA connector, drives 2.5V into a 50 ohm load or 5V into a high-impedance load
4-pin header with logic-level (3.3V) serial and PPS - use with Arduino, Raspberry Pi, or other microcontrollers alongside your PC
Board has same shape and mounting holes as RT/RSMT board, and mounts directly on top
Windows and Mac OS drivers for USB connectivity are available from FTDI. No drivers required for operation under Linux.
Revision 4 and earlier: Windows drivers available from Microchip.
Source
PPS Piggy is open-source hardware, provided under the Creative Commons Attribution 3.0 license It was developed with Altium Designer but a PDF of the schematic as well as the Gerber and NC Drill outputs is provided below. The current revision is number 5.3.